UPDATED Tutor Certification Courses - 2017.06.10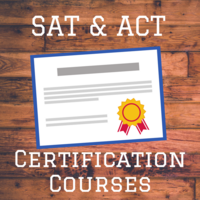 Welcome to the UPDATED Tutor Certification Courses. That's right, "courses" plural. You've got access to BOTH the SAT & ACT Certification Course. Keep in mind that you may only need to complete one or the other. That's because the courses are VERY similar.
So unless you've specifically been asked to complete both courses, plan to complete one certification course or the other.
RECOMMENDED SUPPLIES:
1. Teacher Edition Workbook.
Ask your manager for a copy. If none are available, then you can download pdf copies of portions of the workbook once you begin the certification course(s).
2. Login Credentials for mySATcourse.com and/or myACTcourse.com.
If you have not yet received these, please ask your manager to create a Tutor Account and Practice Student Account for you to reference as you complete this course. You will receive your login credentials via a "welcome email" that is triggered when your manager creates the accounts.
Tutor Account:
username: [your email]
password: [contained in the welcome email]
Practice Student Account:
username: practice_[your email]
password: password
QUESTIONS?
If you've got any questions about your manager's expectations, be sure to check with them before you begin. If you've not yet received a "welcome email" with your login credentials for the mySATcourse and/or myACTcourse, then be sure to remind your manager to create your accounts.
IMPORTANT: If you've got questions about the course itself, please email us at service@clearchoiceprep.com. Please be as specific as possible in your email. We'll get back to you ASAP!
Thanks, and enjoy the course!